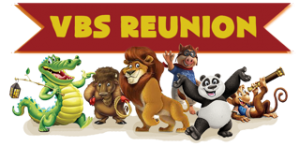 SAVE THE DATE
Thursday, June 13th, 2019 "VBS Reunion: Family Fun Night!"
This year our volunteers are taking a break from the traditional Vacation Bible School and holding a "VBS Reunion: Family Fun Night!" We are so excited to invite ALL our friends who have joined us over the years for a night of FUN with PIZZA, Singing and Dancing from VBS' over the years, and crafts for the whole family!! We can't wait to see everyone again! Please RSVP to nikki.hogarth@gmail.com
FPC VBS 2018
What a great time we had at VBS as we learned together in fun and exciting ways such as singing, hearing stories, playing games, making crafts and more.
With VBS ending yesterday, we want to say thank you. Thank you to everyone involved with VBS from the kids, their families, and every volunteer that made this years VBS possible. Thank you for dedicating your time and all your effort in making this week the best it could be.
Although FPC's 2018 VBS has just come to an end, we are already looking forward to next year!