Fourth Thursday Meal
Join us for our free monthly meal served in our Social Room. All are Welcome!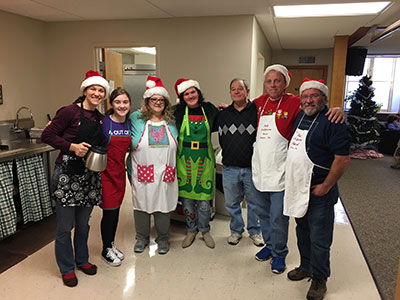 In the Fall of 2007 FPC's Kitchen Ministry opened its doors and in making good use of a newly renovated commercial kitchen, started the Fourth Thursday Meal. Seeing the need in Delaware, the Kitchen Ministry set out to offer a meal to those not only in financial need, but to those who are alone or to the members of our church who can no longer get out or live alone.
With the help of faithful FPC volunteers we provide a meal to those in the Delaware community and deliver meals to church members, January through October and on Christmas Day. Meal patrons are served at their table and dine in a dining room setting with table clothes and the church china, while piano music is played.
Fourth Thursday menu is posted on the FPC Facebook Page, the front page or News & Events.